Falling Weight Deflectometer
Atlas
Global Technology Ltd.
Falling Weight Deflectometer / Heavy Weight Deflectometer (FWD / HWD) is a testing device used to evaluate the physical and mechanical properties of pavement.
The data is primarily used to estimate pavement structural capacity for:
Dynamic E-moduli

Remaining service life

Critical layer(s)

Overlay

PCN values

Load transfer (concrete)

Seasonal strength variation

Pavement strength influenced by temperature changes
Use includes (but is not limited to) highways, local roads, airports, ports and railways tracks. The FWD / HWD is designed to impart a load pulse to the pavement surface which simulates the load produced by a rolling vehicle wheel.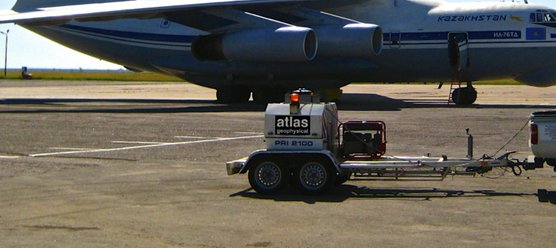 Atlas Global Technology Ltd.
20a London Road
NG24 1TW Newark United Kingdom
Phone: +44 7912 1711 92
Email: info@AtlasGTL.com
Company No. 8876077
Copyright © 2014 Atlas Global Technology Ltd.
Please do not copy/use our images without our express permission.